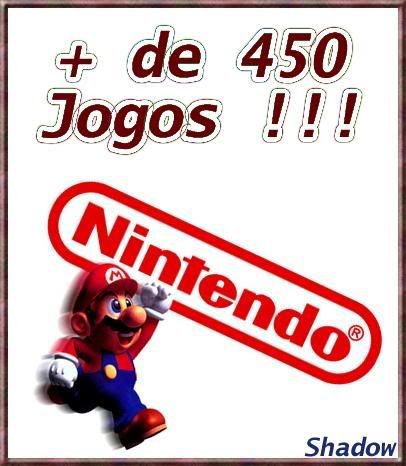 Conhece o Super Ness? É, aquele videogame de 16 bits da decada de 90
Agora você pode ter uma grande coleção desde videogame que fez historia na vida de muita gente
Aqui você encontra nada mais nada menos que 450 jogos (tem mais,apenas arredondei) para esse videogame.
Jogos classicos como Zelda, Super Mario Brother´s, Metroid, Marvel Vs Super Heroes, Internationation SuperStar Soccer Deluxe e o fabuloso Rock´n Roll Racing estão nesse pacotão!!!

Vem junto dois emuladores para poder joga-lo em seu Pc
Gostou? Então peço apenas que agradeça comentando
Tamanho:307Mb ( extraido=605Mb ! )
Abaixo segue a lista dos jogos
***A***
A.S.P Air Strike Patrol
AAAHH!!!Real Monsters
ABC Monday Night Football
Accele Brid
Ace Wo Nerae
ACME Animation Factory
Acrobat Mission
Action Pachio
ActRaiser
ActRaiser 2
AD&D Eye of the Beholder
Addams Family 2 Values
Addams Family - Pugsley's Scavenger Hunt
Addams Family
Adventures of Batman & Robin
Adventures of Dr. Franken
Adventures of Kid Kleets
Adventures of Rocky and Bullwinkle and Friends
Adventures of Tintin, The - Prisoners of the Sun
Aero Fighters
Aero The Acrobat 2
Aero the Acro-Bat
Aerobiz
Aerobiz Supersonic
AIII S.V. - A Ressha de Ikou 3 Super Version
Air Cavalry
Air Management - Oozora ni Kakeru
Air Management II - Koukuu Ou wo Mezase
Akazukin Cha Cha
Akumajou Dracula XX
Al Unser Jr's Road to the Top
Aladdin
Albert Odyssey 2 - Jashin no Taidou
Albert Odyssey
Alcahest
Alice no Paint Adventure
ALIEN3
Alien vs. Predator
All-American Championship Football
Alpha 2 Street Fighter
AMANGA1
AMANGA2
Amazing Spider-Man, The - Lethal Foes
America Oudan Ultra Quiz
American Battle Dome
American Gladiators
American Tail, An - Fievel Goes West
Ancient Magic - Bazoo! Mahou Sekai
Andre Agassi Tennis
Angelique - Premium Box
Angelique
Angelique Voice Fantasy
Animaniacs
Antarctic Adventure
Aoki Densetsu Shoot!
Apocalypse II
Appleseed
Arabian Nights - Sabaku no Seirei Ou
Arabian
Araiguma Rascal
Arcade's Greatest Hits - The Atari Collection 1
Arcana
Archer MacLean's Dropzone
Arcus Spirits
Ardy Lightfoot
Aretha
Aretha II - Ariel no Fushigi na Tabi
Arkanoid - Converted by POPC0RN
Armored Police Metal Jack
Art Of Fighting
Art Of Fighting 2
Asahi Shinbun Rensai - Katou Ichi-Ni-San Shougi - Shingiryuu
Asameshimae Nyanko
Ashita no Joe
Assault Suits Valken
Asterix & Obelix
Astral Bout 2
Astral Bout 3
Astro Boy
Atlas, The - Renaissance Voyager
Axelay
***B***
B.O.B
Baby T-Rex
Bahamut Laggon
Bakukyuu Renpatsu!! Super B-Daman
Bakumatsu Kourinden Oni
Bakuto Dochers
Ball Bullet Gun
Ballz 3D
Bananas de Pijamas
Barbarossa
Barbie Super Model
Barbie Vacation Adventure
Barkley Shut Up and Jam!
Barkley's Power Dunk
Baseball (A&S NES Hack)
Bass Masters Classic - Pro Edition
Bassin's Black Bass
Bastard!! - Ankoku no Hakai-shin
Bastard!!
Batman - Revenge of the Joker
Batman (Beta)
Batman Forever
Batman Returns
Batman & Robin
Batman Cars
Battle Blaze
Battle Cars
Battle Clash
Battle Commander - Hachibushuu Shura no Heihou
Battle Cross
Battle Dodgeball
Battle Grand Prix
Battle Jockey
Battle Master - Kyuukyoku no Senshitachi
Battle Pinball
Battle Racers
Battle Robot Retsuden
Battle Soccer 2
Battle Soccer - Field no Hasha
Battle Submarine
Battle Tycoon
Battle Zeque Den
Battletoads & Double Dragon - The Ultimate Team
Battletoads And Double Dragons
Battletoads in Battlemaniacs (Beta)
Battletoads Vs Double Dragon [español]
Bazooka Blitzkrieg
BBtoad_dd
Beauty and the Beast (Beta)
Beavis and Butthead
Bebe's Kids
Beethoven's 2nd
Benkei Gaiden - Suna no Shou
Best of the Best - Championship Karate
Best Shot Pro Golf
Big Ichigeki! Pachi-Slot Daikouryaku 2
Big Sky Trooper
Biker Mice From Mars
Bill Laimbeer's Combat Basketball
Bill Walsh College Football
Bing Bing! Bingo
Bio Metal
Bishin Densetsu Zoku - The Legend of Bishin
Bishoujo Janshi Suchie-Pai
Bishoujo Senshi Sailor Moon - Another Story
Bishoujo Senshi Sailor Moon S - Fuwa Fuwa Panic 2
Bishoujo Senshi Sailor Moon S - Jougai Rantou! Shuyaku Soudatsusen
Bishoujo Senshi Sailor Moon S - Kondo ha Puzzle de Oshiokiyo!
Bishoujo Senshi Sailor Moon S - Kurukkurin
Bishoujo Senshi Sailor Moon Super S - Fuwa Fuwa Panic
Bishoujo Senshi Sailor Moon Super S - Zenin Sanka!! Shuyaku Soudatsusen
Bishoujo Wrestler Retsuden - Blizzard Yuki Rannyuu!!
Blackhawk
Blackthorne
Blazeon (Beta)
Block Kuzush
Blue Crystal Rod
Blues Brothers
Bobby's World
Bomberman B-Daman
Bonkers
Boogerman
Boogerman - A Pick and Flick Adventure
Bounty Sword
Boxing Legends of the Ring
Boy's Soccer Team 5
Brain Lord
Brainies
Bram Stoker's Dracula
Brandish
Brandish 2 - Expert
Brawl Brothers
BreakThru!
Breath Of Fire 1 [español]
Breath Of Fire 2
Breath of Fire - Ryuu no Senshi
Brett Hull Hockey
Brett Hull Hockey '95
Bronkie Health Hero
BRUCELEE
Brunswick World Tournament of Champions
Brutal - Paws of Fury
BS 3ji no Wide Shou
BS Albert Odyssey
BS Arkanoid - Doh It Again
BS Bdash 2 Gatsu Gou
BS Bdash 3 Gatsu Gou
BS Busters - Digital Magazine 4-12-98
BS Cheap de Gorgeous Vol. 1
BS Chrono Trigger - Character Library
BS Chrono Trigger - Jet Bike Special
BS Chrono Trigger - Music Library
BS Columbus no Tamagoyaki 1
BS Cu-On-Pa SFC
BS-X BIOS
BTOAD_DD
Bubsy II
Bubsy in Claws Encounters of the Furred Kind
BUGBUNNY
Bugs Bunny - Hachamecha Daibouken
Bugs Bunny - Rabbit Rampage
Bulls Vs Blazers and the NBA Playoffs
Burai - Hachigyoku no Yuushi Densetsu
BurgerTime (A&S NES Hack)
Bushi Seiryuuden - Futari no Yuusha
Bust-M-Up 0.9 by Jathys (Bust-A-Move Hack)
***C***
Cacoma Knight
Cal Ripken Jr. Baseball
California Games II
Cameltry
Cannon Fodder
Cannondale Cup
Capcom's MVP Football
Capcom's Soccer Shootout
Captain America and The Avengers
Captain Commando
Captain Novolin
Captain Tsubasa III - Koutei no Chousen
Captain Tsubasa IV - Pro no Rival Tachi
Captain Tsubasa J - The Way to World Youth
Captain Tsubasa V - Hasha no Shougou Canpione
Caravan Shooting Collection
Card Master - Rimusaria no Fuuin
carnage
Carrier Aces
Casper
Castlevania - Dracula X - Evil Trevor V.99
Castlevania - Vampire's Kiss
CB Chara Wars - Ushinawareta Gag
Clay Figther 2
Champions World Class Soccer
Championship Pool
Championship Soccer '94
Chaos Seed - Fuusui Kairoki
Chavez
Chavez 2
Chessmaster
Chester Cheetah - Too Cool to Fool
Chester Cheetah - Wild Wild Quest
Chibi Maruko-chan - Harikiri 365-Nichi no Maki
Chibi Maruko-chan - Mezase! Minami no Island!!
Chinhai
Choplifter 3
Chou Aniki - Bakuretsu Rantouden
Chou Mahou Tairiku WOZZ
Choujikuu Yousai Macross - Scrambled Valkyrie
Chrono
Chrono Trigger - Easy Hack V0.1 by OTAKU Force
Chrono Trigger - Terra Is Your Mother Patch
Chuck Rock
Circus Charlie (A&S NES Hack)
Civilization
Classic Road
Clay Fighter 2 - Judgment Clay
Clay Fighter - Tournament Edition
Claymates
Cliffhanger
Clock Tower
Clock Works
Clue
College Football USA '97 - The Road to New Orleans
College Slam Basketball
Columns
Combatribes
Computer Nouryoku Kaiseki - Ultra Baken
Congo
Congo The Movie - Secret of Zinj
Congo's Caper
Contra III - The Alien Wars
Contra Spirits
Conveni Wars Barcode Battler Senki - Super Senshi Shutsugeki Seyo
Cool Spot
Cool World
Corn Buster
Coron Land
Cosmo Gang - The Puzzle
Cosmo Gang - The Video
Cosmo Police Galivan II - Arrow of Justice
Cotton 100
Crayon Shin-chan - Arashi wo yobu Enji
Crayon Shin-chan 2 - Daimaou no Gyakushuu
Crystal Beans From Dungeon Explorer
Cu-On-Pa SFC
Cutthroat Island
Castlevania 4
Cyber Spin
Cyber Knight
Cyber Knight II - Chikyuu Teikoku no Yabou
Cybernator
Cyborg 009
***D***
Daffy Duck - The Marvin Missions
DragonBallZ
Desert Fighter
Destructive
Donkey Kong Country
Donkey Kong Country3
Donkey Kong Jr.
Doom
Dough Boy
***E***
Elevator Action (A&S NES Hack)
Elnard
Empires Strikes Super
Exerion
***F***
Final Fantasy 5
Final Fight [Português]
Final Fight 1
Final Fight 2
Final Fight 3
Fighters History 2
Fifa 98
Fzero
Fzero 2
***G***
GEMSWAR(Marvel Super Heroes)
GGHOSTS
Golden Fighter
***I***
Inspctgadger
International Super Star Soccer DELUXE
Itch & Scratch
***J***
J.League Excite Stage '94
J.League Soccer Prime Goal 3
JUSTICE
***K***
Killer Instinct Gold
KING_ART
***L***
LEGEND
Lode Runner (A&S NES Hack)
Looney Tunes Basket Ball
LUFIA
***M***
Mappy (A&S NES Hack)
Mario Bros. (A&S NES Hack)
Mario
Marvel Super Heroes
Metroid 3
Millipede (A&S NES Hack)
Mountain Bike Rally
Metal Warriors 2
***N***
NBA Pro Basketball - Bulls vs Blazers
Ngaiden
Nosferatu
Nuts & Milk (A&S NES Hack)
***P***
Pac-Man (A&S NES Hack)
Paper Boy
Pinball (A&S NES Hack)
Popeye (A&S NES Hack)
Pre-Historic Man
Puzzle Bobble
***R***
Road Fighter
Robocop 3
Rock and Roll Racing
Romance 4
R Type 3
Ryuuko no Ken
***S***
Sailor Moon
Samurais
Sensible Soccer
Sensible Soccer - International Edition
Soccer Shootout
Sonic Wings
Space Bazooka
Space Funky B.O.B
Spawn
Star Force
Street Racer
Street Fighter 2
Street Fighter 5
Syndicate 2
Sim City
Super Mario Kart
Smurfs 2
Super Billiard
Super Black Bass 2
Super Kick Boxing
Super Mario World
Super Probotector - The Alien Rebels
Superman
Super Mario Bros(All Stars)
Super Return of Jedi
Super Off-Road
***T***
Tatakae Genshijin 2 - Rookie no Bouken
Tennis (A&S NES Hack)
The Mask
ThunderBird
Tinytoon
The Lost Vikings 2
Top Gear 1
Top Gear 2
Top Gear 3000
TrueLies
***U***
Ultima
Uni Racer
***V***
Volguard 2 (A&S NES Hack)
Warpman (A&S NES Hack)
***W***
Worms
***X***
X-Men
***Y***
Yie Ar Kung Fu (A&S NES Hack)
***Z***
Zelda
3 Ninjas Kick Back
3x3 Eyes - Juuma Houkan
4 Nin Shougi
007
7th Saga
10 Yard Fight
90 minutes- European Prime Goal
777 Fighter 2
2020 Super Baseball
Gostou dos jogos? Agradeça comentando
Abraçs de seu amigo